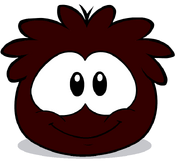 The
Maroon Puffle
is a puffle breed on Club Penguin. It was discovered on Rockhopper Island during the Island Expedition. He was only available on Rockhopper Island to adopt because he was to scared to come to Club Penguin. You will be able to find him again in the Rockhopper Party 2014.
You can only adopt him on Rockhopper Island.
He is only available during the Island Expedition and the Rockhopper Party.